I am all about shopping small and local. Nothing can beat the individualized attention and personal service that a boutique has to offer.  But I will say it has been pretty hard to ignore the influx of pre-fall sales jamming my email. So I took a quick peek.  Here are the items I am crushing on big time…
Click on the pics for links in case you want to further your cyber window shopping experience!
From Anthropologie:
Is the word LOVE too strong? Because I think I am in LOVE with these. They are perfect in every way. You know how a big trend is mixing prints? This pattern is a safe bet to mix back to a small-scale pattern or a black/white color scheme pattern. It is a no fail.
Also from Anthropologie
I really, really, really, want these. They will make anyone feel like a rock star. Or at least like you are dating a very cool rock star.
 Ann Taylor Loft
Every girl needs a trench. Because no matter what you are wearing underneath (even your pajama shirt), you can throw it on and look like a sophisticated adult woman.  Even if you are just running late and dropping the kids off at school. This one is trimmed in black so it keeps it a little bit fresh and modern.
The Gap
I admit it. I am somewhat of a jean snob. I believe in paying more for my favorite basic denim from brands like Paige and Hudson, because I know that the quality and fit will never disappoint. But sometimes it is fun to try a trend for denim, and I do not believe in spending a lot of money on a trend. I think the fit with Gap can be hit or miss, but I do love the cute styling of these with the zippers at the top and at the ankle. And they are on sale right now.
J. Crew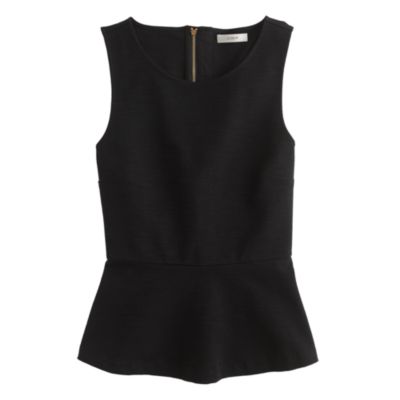 The peplum. I know it came on strong as a trendy item but honestly it is so flattering it is here to stay. They look good on everyone because they help to create that ideal hourglass figure. This one from J. Crew is in a Ponte Stretch. Anytime you see Ponte you know that it will be stretchy (spandex) and soft (cotton). It is the perfect layering piece to update a conservative classic cardigan into something more feminine and fashion forward. It looks great with shorts now and with jeans later. Just make sure to get the size right, even if you take it to a tailor for some tweaking. It has to be worn fitted, too big and it just looks sloppy.
J.Crew Factory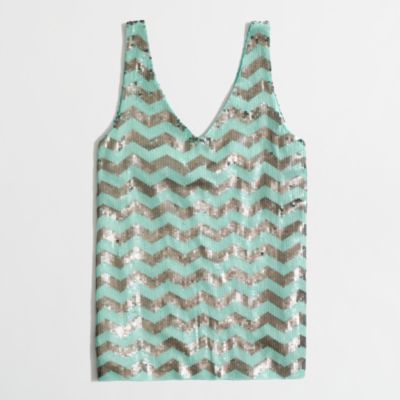 Ummm…it's sequins…it's chevron…it sparkles! What's not to love?  I love this color palette for now (under a white blazer – so fresh!) and switch it up for fall under a leather jacket or a LBJ (little black jacket). A sequin top really belongs in everyone's closet. There will always be some occasion where you just need to bring out the bling.
Nordstrom
They pretty much take the cake with THE best sales when it comes to their anniversary sale. It's for a limited time and it is good.
This sweater poncho from Vince looks very simple but it is a workhorse. You know how Jennifer Aniston has the effortless style look down pat? She wears a lot of pieces by Vince. I purchased this sweater last year from Elizabeth Maar Boutique and would have worn it 5 days out of the week if that wouldn't have been so weird. I am so paranoid that something will happen to it that I am very seriously contemplating buying a back-up, just in case. It feels like the world's chicest sweatshirt. The high cashmere content is a plus.  I wore it over a tank, turtleneck, white button down, long sleeve t. Back to leggings, printed denim, skinny jeans. It was the exact shade of neutral to blend with everything and anything. And the neckline is just right for showing off statement necklaces and pretty scarves. It is an investment but I promise you will not be sorry.
Let's have a moment of silence for the perfection that is the Melissa boot by Frye. If you bought just one shoe for fall this should be it.  The brown patina will just get better and better over time. And they will ALWAYS be in style, year after year. Buy them now. If you wait until after August 5th the price goes up by $130.
If I am going to be a rock star I need the quintessential leather jacket. This one is 60% off and comes in just under $120. And the cool factor is priceless. Think this style is too young? You can make it more refined by pairing it with a plain white tank,  a blank pencil skirt, and classic black pumps. Simple perfection.
*Insider Tip – Get on the list.
Don't forget to sign up to receive email notifications from your favorite stores. And be picky. Nobody wants an inbox full of junk, but sign up for the stores who style and fit you know you love. You will get first dibs on sale styles.
*Insider Tip – Check back.
Stores like J. Crew will change the stock of the sale items practically by the hour. It is true, I asked the sales people. So if you don't see your size or a color of something you want, make sure to go back and check the sale site again a little later. It just may pop up. And on the flip side, if you really do love an item put it in your cart and check out asap. Good deals and sizes go fast.
So tell me…what are you lusting after for fall? I'd love to hear!
Already have a wish list but no time to shop? Contact me to do the shopping for you!
Thanks for reading!
Suzie