Let's be totally honest. When someone says they are going to host a party for the sale of (fill in the blank; candles, clothes, jewelry, food, food storage, home decor, makeup) your first instinct is to roll over and play dead.
"Oh the Evite must have went to my junk email folder!"
"I just can't go or my husband will kill me!"
"I have to stay home and rip off my toenails!"
Basically anything to get out of going. I was this person. I still am sometimes.
I just think as wives, employees, mothers and daughters we can't seem to get enough down time anymore. But you know what? I ALWAYS feel better after I go. And it does take A LOT to get me out of the house. A reason to wear a great outfit always helps.
Here's my story (and I'm stickin' to it). About 2 years ago my sister said "Oh my friend, so and so is having a party for a clothing line that a rep brings to your house to sell." "Ugghhh" said I. Lots of small talk and then pressure to spend money. But something in me decided to go. I think I hadn't really seen my sister (we live 5 minutes apart but life/jobs/kids get in the way) in a little while so I thought it would be good to hang out.
So I went and had an amazing time. And I met my now good friend Patty, who works as a consultant for CAbi clothing. You know how they say people come into your life for a reason? She was this reason. We were meant to be friends. Like they say on The Bachelor, we just connected. I've been working part-time for Patty for almost 2 years as her assistant at CAbi shows.
Through house parties I have met so many fabulous women. Teachers, tutors, doctors, yoga instructors, bankers, interior decorators, realtors, artists, business owners and super moms. There have been women who have survived cancer, women who have survived divorce, and wives, moms and sisters I could relate to and learn something from. At the end of the day we are all alike more than we are different. At these parties there is always time for talk, and lots of it. It helps me to feel less alone. Like I am not the only one who drove through yellow line paint with my black car, packed only pretzels in my children's lunch, and is one spilled cup of coffee away from a full on nervous breakdown. We all smell those familiar scents of fall – pumpkin, cinnamon, and smoke. Smoke because our minds are fried. Our brains explode in fear of the upcoming holiday stress.
I remember about 3 years ago they decided to rearrange our local grocery store from mid-November until about Christmas time. You should have seen us women walking around there dazed and pissed off. I mean really? REALLY? Does someone out there think this is funny to make me have to walk down 12 different aisles to find that jar of yams? I wanted to find the person in charge of this ridiculous idea and beat them with my grocery list. I had fantasies about taking said individual to a competing grocery store somewhere far away and then telling them they had 10 minutes to find q-tips, organic waffles and those little french onion things we put on green bean casseroles.
So before it gets too late make a date to get out with your girlfriends. And, if you can, do it by supporting small businesses (both brick and mortar and home sales). And just to be clear today's parties are different. They are like cocktail parties with stuff to buy BUT ONLY IF YOU WANT TO. I've hosted parties for both CAbi and Stella and Dot and both of the reps treat it like a fun girls get together, because it is! There are no hokey games or forced sales, and no pressure to host or become a rep. Many friends come and sort of preview shop. They enjoy the show, go home and think about it, and then place an order if they want. And guess what? I don't even clean first. I mean I straighten up but no mopping and stuff. I put out some drinks and snacks and keep it very low key.
*Insider Tip – Shop now and be prepared.
Don't be caught screaming and crying in your closet this holiday season. No one needs the added stress. Look at your calendar and be aware of any upcoming events.
*Make sure you have one top that is no fail and sparkles. It makes anything instantly festive. Bonus points for sleeves.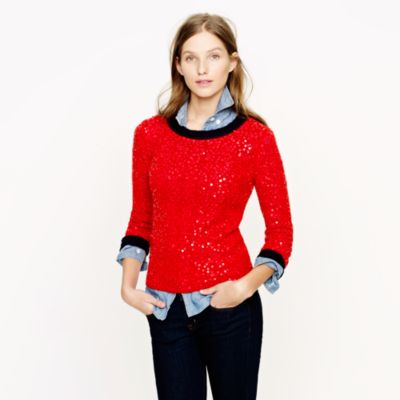 *Make sure you have black opaque tights in good condition. It is no fun to try and get ready for a party with screaming kids and runs in your tights. Been there, done that, won't do it again. If you are always cold buy the fleece lined ones – you can find them everywhere from Target to Anthropolgie.
*Do you have a good pair of black shoes or boots? Find a classic pair with little or no metal accents so that they go with everything. I adore this quilted pair available at Ashley Austin.
*Buy a statement necklace. It can turn a t-shirt and jeans into cocktail party attire.
I am obsessed with this one from Stella and Dot.
*Insider Tip – Don't have the cash flow for any of the above right now? Swap with your girlfriends!
Maybe you have the necklace and she has the sparkly sweater. Or vice versa. Sync your calenders and borrow away. After all that's what friends are for! You never know what could be hiding in their closets.
I know we are all struggling to find equilibrium. I love what I do, I love my kids, and I love my hubby. But I need my girlfriends. They are my sounding board. They are the rudder on my ship that sometimes takes on water. In a season of thanks I am so very thankful for all of them, old, new and those I will meet.
If you are local to the area feel free to stop by my house on Wednesday, November 14th at 7pm for a CAbi show. And I am breaking out the expensive stuff. Send me an email if you would like more info.
That's right, it's boxed wine in the shape of a purse. Yeah baby.